Design & Installation of 20,000 Litre Resin Reactor & Process Infrastructure
The Company
VIL Resins are an independent family-owned manufacturing company based in Lancashire, England. They have been successfully manufacturing surface coating resins for over 80 years and, as a consequence, have developed unique knowhow and industry knowledge in resin production. Throughout the many years of operation, VIL Resins have manufactured and supplied resins to UK and international markets.
Keen to invest in their future and maintain a competitive advantage in the resin industry, VIL Resins looked to Ai Process to increase their resin production capability at their manufacturing site in Bolton, NW England.
Project Brief
Design, construct, install and commission a new 20,000 litre resin reactor with associated process infrastructure.
To view this video please enable JavaScript, and consider upgrading to a web browser that supports HTML5 video
Scope of Works
Front end engineering design study consisting of 3D designs, P&ID's, general arrangement layout drawings, equipment specifications and costings.
Design, procure, project manage and commission the installation of:
20,000 litre resin reactor vessel
Condenser
Phase separator
Charge tank
Powder handling system
Structural mezzanine
Process and service pipework
Gas fired hot oil boiler system
Ground tank
Instrumentation and control
Electrical installation
Civil and building works
Environmental extraction
Design vs Installed — Move the slider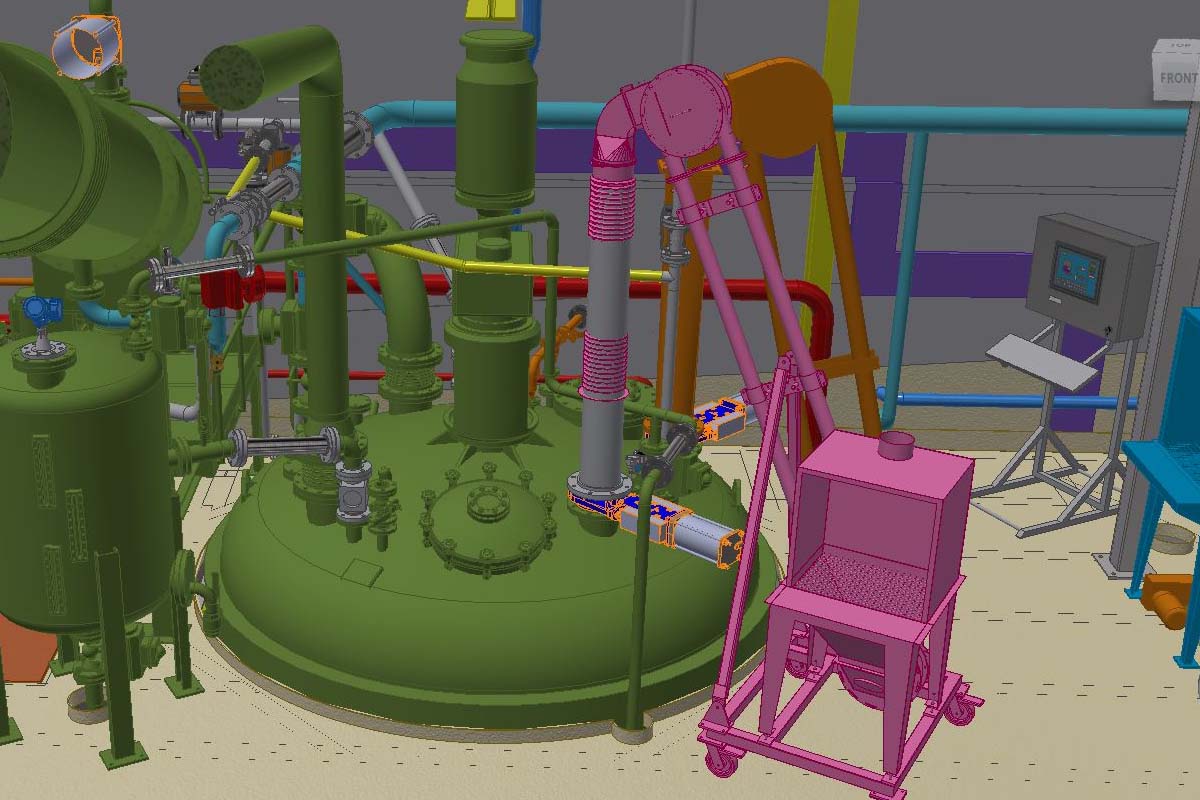 Design Challenges
Restricted available space

A significant challenge when designing the process was the restricted space available to fit the entire resin manufacturing process. To maximise the available space including the height of the building, a mezzanine was constructed which provided operator access to the resin reactor and associated equipment. The mezzanine was also used to accommodate the process control room.

Restricted reactor access

Precision was required when transporting the vessel from the unloading vehicle to its final location. Having to pass through several doors with little clearance between doors and equipment. Precision and caution were exercised when manoeuvring the 20,000 litre reactor into position.

Plant installation while maintaining existing site operations

Minimal disruption to other areas of the manufacturing site was crucial to VIL Resins in order to maintain existing production whilst the project was undertaken.

Logistical obstacles relating to the pandemic

The project was directly impacted by the pandemic. Disruptions relating to the supply of equipment, material and labour were managed effectively.
Project Gallery — Select an image to begin viewing the gallery